The differential diagnosis of chronic daily headaches: an algorithm-based approach
The Journal of Headache and Pain
2007
8:418
Received: 6 September 2007
Accepted: 19 September 2007
Published: 23 October 2007
Abstract
Chronic daily headaches (CDHs) refers to primary headaches that happen on at least 15 days per month, for 4 or more hours per day, for at least three consecutive months. The differential diagnosis of CDHs is challenging and should proceed in an orderly fashion. The approach begins with a search for "red flags" that suggest the possibility of a secondary headache. If secondary headaches that mimic CDHs are excluded, either on clinical grounds or through investigation, the next step is to classify the headaches based on the duration of attacks. If the attacks last less than 4 hours per day, a trigeminal autonomic cephalalgia (TAC) is likely. TACs include episodic and chronic cluster headache, episodic and chronic paroxysmal hemicrania, SUNCT, and hypnic headache. If the duration is ≥4 h, a CDH is likely and the differential diagnosis encompasses chronic migraine, chronic tension-type headache, new daily persistent headache and hemicrania continua. The clinical approach to diagnosing CDH is the scope of this review.
Keywords
Chronic daily headache
Differential diagnosis
Strategy
Introduction
Chronic daily headaches (CDH) may be broadly or narrowly defined. In the broad sense, CDH encompasses all headaches that occur on 15 days per month or more. They are subdivided in primary CDHs (not caused by other disorders) and secondary CDHs (there is an underlying cause such as infection or tumour). The primary CDHs are further subdivided into those of long duration (≥4 h a day) and shorter duration (<4 h duration) [1–3].
In its narrow and more frequently used sense, CDH is used to refer exclusively to "primary CDH of long duration", a clinical syndrome defined by headaches that occur for ≥4 h a day on ≥15 days a month over >3 months in individuals without an underlying cause [1]. Unless otherwise indicated, in this paper, CDH refers to primary CDHs of long duration.
CDH is the third most common primary headache in the population, with an overall prevalence ranging from 4% to 5% [4, 5]. Because of their frequency, severity and duration, CDHs are extraordinarily burdensome to individuals and society. Furthermore, CDH is the most common reason for consultation in headache clinics.
The Silberstein and Lipton (S-L) criteria for CDH and its subtypes have been widely used and are well accepted [1]. According to these criteria, CDH is divided into four groups: chronic or transformed migraine (CM/TM), chronic tensiontype headache (CTTH), new daily persistent headache (NDPH) and hemicrania continua (HC), and subclassified into subtypes with medication overuse or without medication overuse, incorporating the concept that medication overuse is often associated with the onset of CDH.
The differential diagnosis of CDHs is challenging and should proceed in an orderly fashion. Crucial elements include a thorough history, supplemented by general medical and neurological examinations, as well as laboratory testing and neuroimaging in selected patients. Herein we discuss the strategy to diagnose CDHs and their differential diagnosis. We emphasise that this strategy reflects the authors' personal view of CDHs, as well as our personal diagnostic experience. Furthermore, the diagnostic algorithms presented herein have not been validated.
First step: distinguishing primary from secondary CDH
An important first step in headache diagnosis is to distinguish primary from secondary CDH. The detailed strategies to identify or exclude secondary headaches are beyond the scope of this paper. In brief, the approach begins with a search for "red flags" that suggest the possibility of a secondary headache (Fig.
1
). Once these features are identified, the physician must conduct the appropriate work-up to identify or exclude the conditions suggested by the red flag (Table
1
). Once secondary headache is excluded by history, physical and neurological examination and/or appropriate testing, the next step is to diagnose the primary headache disorder [
6
].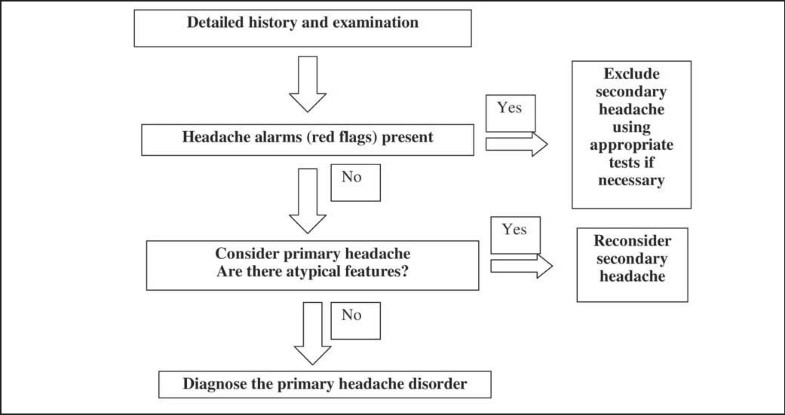 Table 1
Red flags in the diagnosis of headache. Modified from [6]
| Red flag | Consider | Possible investigation(s) |
| --- | --- | --- |
| Sudden-onset headache | Subarachnoid haemorrhage, bleed into a mass or AVM, mass lesion (especially posterior fossa) | Neuroimaging, lumbar puncture (after neuroimaging evaluation) |
| Worsening-pattern headache | Mass lesion, subdural haematoma, medication overuse | Neuroimaging |
| Headache with cancer, HIV or other systemic illness (fever, neck stiffness, cutaneous rash) | Meningitis, encephalitis, Lyme disease, systemic infection, collagen vascular disease, arteritis | Neuroimaging, lumbar puncture, biopsy, blood tests |
| Focal neurologic signs, or symptoms other than typical visual or sensory aura | Mass lesion, AVM, collagen vascular disease | Neuroimaging, collagen vascular evaluation |
| Papilloedema | Mass lesion, pseudotumour, encephalitis, meningitis | Neuroimaging, lumbar puncture (after neuroimaging evaluation) |
| Triggered by cough, exertion or Valsalva | Subarachnoid haemorrhage, mass lesion | Neuroimaging, consider lumbar puncture |
| Headache during pregnancy or post-partum | Cortical vein/cranial sinus thrombosis, carotid dissection, pituitary apoplexy | Neuroimaging |
Many patients with red flags do not have secondary headache disorders. Nonetheless, when red flags are present, they often merit investigation. Red flags include: (1) sudden onset of a severe headache; (2) a worsening pattern of a preexisting headache in the absence of obvious predisposing factors (e.g. medication overuse, depression); (3) headache with cancer, HIV or other systemic illness (fever, neck stiffness, cutaneous rash); (4) headache associated with focal neurologic signs other than typical visual or sensory aura; (5) headache in a patient with papilloedema; (6) moderate or severe headache triggered by cough, exertion, orgasm or Valsalva; and (7) new onset of a headache during pregnancy or post-partum.
Other less common secondary causes of intractable headache that may lead to CDH are summarised in Table
2
. Detection of many of these disorders requires a systematic approach to the headache history and physical examination as well as a high index of suspicion. We will highlight some of these critical issues. For a review on this topic, the reader is referred to [
7
].
Table 2
Secondary headaches that mimic chronic benign headache syndromes
Headache associated with vascular disorders
Cerebrovascular disease including carotid artery dissection and arteriovenous malformation
Arteritis including giant cell arteritis
Headache associated with non-vascular intracranial disorders
Low CSF pressure syndrome (spontaneous or post-traumatic CSF "leak")
High CSF pressure without papilloedema
Intracranial: Lyme disease, human immunodeficiency virus, encephalitis, fungal meningitis, etc.
Headache associated with substances or their withdrawal
Overuse of acute headache medications (rebound or toxic drug overuse syndromes)
Headache associated with cranium, neck, eyes, ears, nose, sinuses, teeth, mouth or other facial or cranial structures
Otolaryngologic disease, including chronic sphenoid sinusitis (or other sinus disease)
Nasopharyngeal disorders, including carcinoma
Disorders of the trigeminal nerve, including dental and oral disease, jaw pathology
Subacute angle closure glaucoma, optic neuritis and other ocular disorders
Occipitocervical disease, including Arnold-Chiari Malformation Type I; upper cervical joint, root or nerve (neuralgic) syndromes
Headache associated with non-cephalic infection, metabolic or systemic disturbances
Hepatitis, renal disease, B12 deficiency, anaemia, exposure to carbon monoxide and other toxins
Hormonal disturbances/endocrinologic disease (oestrogen, thyroid disease, hyperprolactinaemia, etc.)
Vasculitis/rheumatic/connective tissue disorders
Miscellanea
Mediastinal and thoracic processes including angina, mass lesions, superior vena cava syndrome
Red flags triggered by the temporal profile of headache
The temporal profile of the headache, and its nature and the circumstances of its onset are crucial for diagnosis. The temporal profile of a headache can provide important clues to its aetiology. A few examples are listed below:
A rapid-onset headache may suggest a subarachnoid haemorrhage, pituitary apoplexy [8] or other intracranial catastrophes [9]. These disorders rarely cause CDH, but can result in intractability of an ongoing headache attack.

Sphenoid sinusitis may cause NDPH and may be missed radiologically unless appropriate studies are performed [10].

Headaches that start after age 55 suggest an organic disorder for CDH, such as a mass lesion or giant cell arteritis [11]. Giant cell arteritis is often under-diagnosed, and is an important cause of preventable blindness in the elderly.
Red flags triggered by concurrent events or provoking activity
Concurrent events and headache triggers may give clues to diagnosis, and some of them are listed below:
Chronic headaches (NDPH) that occur in the peripartum period may be due to dural sinus thrombosis [12].

Orthostatic CDH suggests a low CSF pressure headache (from a spontaneous CSF leak, a previous lumbar puncture, or an epidural block) [13].

CDH exacerbated by straining, coughing or sneezing suggests a hindbrain malformation, occipitocervical junction disorder or increased intracranial pressure [14].

CDH that is worse in the morning in the absence of medication overuse, that may suggest raised intracranial pressure. CDH with medication overuse is often worse in the morning.

In contrast, subjects with CDH that is better in the morning and worse at night that may suggest low CSF volume headache [13].

Similarly, CDHs that are worse on awakening sometimes occur with obstructive sleep apnoea [13].

Increasing pain while upright, and neck pain and headache provoked by flexion or extension of the neck might suggest an occipitocervical junction disorder or a systemic medical illness [15–17].

Search for opportunistic infections, including toxoplasmosis and cryptococcal meningitis, in patients who may have HIV infection or HIV risk factors [18].

A previous mild to moderate head or neck injury is frequently overlooked in the standard history, despite the fact that it can render an individual refractory to standard headache treatments [19]. A diagnosis of post-traumatic headache may lead to additional treatment including trigger point injections and facet joint and cervical nerve blocks.

The history often neglects recent dental procedures. Root canals, tooth extractions or bite disturbances may provoke or be associated with the development of CDH due to brain abscess [20, 21].

Consider ocular disturbances, such as subacute angle closure glaucoma, or infection, if the CDH is worse in the periorbital region [22].
In the absence of secondary CDH, the clinician proceeds to diagnose a primary CDH disorder. If the headache is atypical or difficult to classify, the possibility of secondary headache should be reconsidered, although the modifying effect of any treatment being taken should be kept in mind. Additionally, lack of response to appropriate treatment given for enough time may also be considered a red flag.
Second step: classifying primary CDH based on duration and frequency (Fig. 2)
Basically, in a patient where we excluded, either by clinical history or by appropriate investigation, secondary headache syndromes, the next step is to divide the primary headaches based on average monthly frequency of the attacks. Doing so, we divide patients into those of low-to-moderate frequency (<15 headache days per month), or those of high frequency (≥15 headache days per month). Second, based on average duration of a typical untreated headache attack, we further classify the headache syndrome as short-duration (<4 h a day) or long-duration (4 h) [25].

Conclusions
The differential diagnosis of CDH is challenging and requires a systematic approach. Herein we presented an algorithm-based approach to the differential diagnosis of the CDHs, which should help physicians interested in headache to move forward quickly and safely when assessing patients with daily or almost daily headaches.
Authors' Affiliations
(1)
Department of Neurology, Albert Einstein College of Medicine, Bronx, USA
(2)
Department of Epidemiology and Population Health, Albert Einstein College of Medicine, Bronx, USA
(3)
The Montefiore Headache Center, Bronx, USA
Copyright
© Springer-Verlag Italia 2007