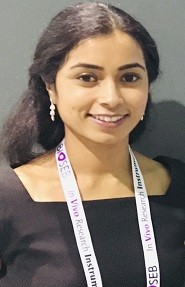 Dr Arani Vivekanantham is a NIHR Academic Clinical Fellow in Rheumatology at The University of Manchester. She completed an intercalated Master of Philosophy degree whilst at medical school and an Academic Foundation Programme post following this. Dr Vivekanantham is due to start her Rheumatology Specialist Registrar training in August 2020, and hopes to pursue a clinical academic career in Rheumatology, going forwards.
The association between headache and low back pain: a systematic review by Arani Vivekanantham, Claire Edwin, Tamar Pincus, Manjit Matharu, Helen Parsons & Martin Underwood, was one of the most highly cited papers in The Journal of Headache and Pain, in 2019.
1). Please briefly introduce yourself, your co-authors (if applicable/desired), your respective fields of expertise.
I am Dr Arani Vivekanantham. I worked with my colleague, Dr Claire Edwin, on this review when we were both Academic Foundation Programme doctors at University Hospitals Coventry and Warwickshire. I am now an NIHR Academic Clinical Fellow in Rheumatology at The University of Manchester and Dr Edwin is now a Core Surgical Trainee, in North West London. For this project we worked with the team based in Warwick Clinical Trials Unit (CTU), working on an NIHR Programme Grant for Applied Research the Chronic Headaches Education and Self-Management (CHESS) study (project number: RP-PG-1212-20018) https://warwick.ac.uk/fac/sci/med/research/ctu/trials/chess/.
This programme is led by Professor Underwood, who is also a leading back pain researcher. Dr Matharu from The Institute of Neurology provided the headache expertise, Professor Pincus from Royal Holloway is an expert in pain and systematic reviews and Dr Parsons, who is a medical statistician based in Warwick CTU, ensured that all our analyses are robust.
2). What is the background for this study?
Low back pain and chronic headaches are leading causes of disability worldwide. Approximately one in five people have persistent low back pain and one in thirty have chronic headaches. People with low back pain are typically managed by musculoskeletal services, whilst those with headaches are usually treated by general practitioners and neurologists. There may be particular challenges in treating people with both disorders; for example, due to the risk of medication overuse headache in people taking regular pain killers for low back pain. But, also opportunities if interventions for one can be re-purposed for the other.
3). What are the main findings?
Fourteen studies were included in our systematic review. There was a statistically significant association between chronic headaches and persistent low back pain in all of the studies. The odds ratios for the association ranged from 1.55 (95% confidence interval (CI) 1.13-2.11) to 8.00 (95% CI 5.3-12.1). The association may be stronger for people with migraine than people with other headache disorders.
4). What should readers take away from your report?
People experiencing either chronic headaches or low back pain are typically twice as likely to experience the other compared to people without either of these disorders. Patients with both of these disorders may benefit from a joint treatment approach.
5). What recommendations do you have for future research as a result of this study?
Research is needed to explore the mechanisms of the relationship between chronic headaches and low back pain. Possible explanations include both disorders having common psychosocial determinants of chronic pain processing, and biological explanations such as differences in gene expression or, for some people, a common pathway mediated through calcitonin gene-related peptide.
Further research is also need to evaluate the effectiveness of treatment programmes targeting people with both disorders, and to find out if any exciting interventions for back pain could be re-purposed for headache disorders, or vice versa[ce1] .
6). Are there any new developments connecting lower back pain (LBP) and headache that you think are particularly exciting?
The CHESS trial is testing an education and self-management originally developed to help people with chronic musculoskeletal pain that has been further developed to address headache disorders. The trial has recruited 736 people with chronic migraine or chronic tension type headache and is due to report in 2021. Half also reported having at least moderately troublesome low back pain; and nearly 60% reported at least moderately severe neck pain. You can read the protocol here: https://bmjopen.bmj.com/content/10/4/e033520.long and about the intervention here https://thejournalofheadacheandpain.biomedcentral.com/articles/10.1186/s10194-019-0980-5
7). Any disclosures?
This work was supported by the National Institute for Health Research (NIHR). Professor Underwood, from Warwick Medical School, the senior author is an NIHR Senior Investigator and an editor for the NIHR.
Click here to read the author's work.